Now is the time to finally get rid of your unwanted car with our cash-for-cars Newcastle service.
We understand you have a car that has served you well. In recent years, you have been trying to keep it on the road.
You have spent a small fortune but every time you repair an issue, a new one comes up. You want to let it go but you know no one will purchase it in its current condition. Who wants an unroadworthy vehicle?
When worse comes to worst, you have the option of our Newcastle cash-for-cars service.
Free Car Removal in Newcastle Area
Sometimes you don't care about selling your old dump. You just want it towed and removed from your property or the side of the road where it broke down.
Either way, you are in luck. Top Cash for Scrap Cars provides free car removal throughout the entire Newcastle area. We come to your vehicle's location, wherever it may be, and will tow it to our scrapyard for scrapping.
Not only is this removal service free, but we will also offer you cash to take ownership of it and make the transaction complete.
Getting rid of an old car is always a challenge. No one wants a car that has issues. However, we are always looking for such cars as long as they have some parts that can be reused.
Our Newcastle Wreckers Want Your Vehicle
Our professional car wreckers will dismantle your vehicle carefully and we have the space to store the parts that may not sell quickly. We make it easy for you by taking it all away and giving you a handsome sum of money.
With our cash-for-cars Newcastle service, we are always willing to give you cash for unwanted vehicles, whether it is drivable or not. Even if it is damaged beyond belied and considered a write-off.
Your car still has some parts that can be used to fix another car, but there is no point in you trying to sell it in parts. While this may seem like a good idea if you have a sports car, what you will most likely find is that all the popular parts will be taken and then you will be left with the unwanted bulky metal.
Avoid turning your garage and yard into a scrapyard and sell it for cash to a wrecker that buys cars.
Leave the part selling to us. We remove the valuable parts and the remaining metal shell is recycled properly.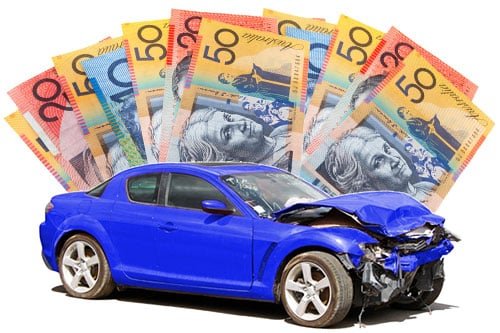 We Buy & Remove Scrap Cars
Contact us now for a quick sale and fast car removal.
Free Towing of Your Scrap Car
As a reliable car scrapper in Newcastle, we will offer you the best cash for cars when you are ready to sell. Even if you don't want money for your vehicle, we will still provide free towing of your wrecked car to our wrecking yard.
Then we do is dismantle the car carefully and sort out what can be reused and recycled. It's a simple and easy way for you to get rid of the car and put some extra dollars in your pocket, hassle-free. 
But we get it. It's not easy to let go of a car if you have owned it for several years but one thing you should know is that it is not safe keeping it in your backyard either. It could lead to injuries, or even be a source of infestation once spiders, snakes or rodents start making nests.
With our Newcastle cash for cars and car removal services, you can use the quick money to put toward your new car. Thus if you want to get rid of your old car, talk to us today.