Are you looking to get rid of your old car in Port Macquarie? Look no further than Top Cash For Scrap Cars! We are the premier cash-for-cars service provider in the Port Macquarie-Hastings Council area, offering top dollar for unwanted cars.
Whether it's a broken-down vehicle or an aged clunker, our team will offer you the best price on your scrap car. With years of experience and a commitment to customer satisfaction, we guarantee that you'll be getting the best deal when you scrap your car with us.
Have a working vehicle? No worries, we purchase cars in perfectly good condition too.
We Buy Working Cars Too
Contact us now for a quick sale and fast car removal.
Free Car Removal For All Vehicles
All you need to do is contact us and let us know a few details about your ride. We will make you an offer to purchase and can arrange a free collection from where the vehicle is currently parked.
Once you accept our offer, our car removal service will be provided at a time that is convenient for you. Our team of highly trained experts are experienced in towing all vehicles, so you can rest assured that your vehicle and property will be taken care of with the utmost respect.
We buy all types, makes and models of cars, regardless of their condition. Contact us now to find out how easy our car pick-up service is.
Top Cash for Cars in Port Macquarie
At Top Cash For Scrap Cars, we strive to make the car scrapping process as easy and convenient as possible. We offer some of the best rates in town and a fast, friendly service that you can rely on.
Our automotive wreckers are seeking more vehicles that can be stripped for reusable parts and scrap metal recycling. We want to do the right thing for the Australian environment to keep abandoned cars from rusting away in our bushland.
Contact our team about your unwanted vehicle to help clean up Austalia and put some extra dollars in your pocket today.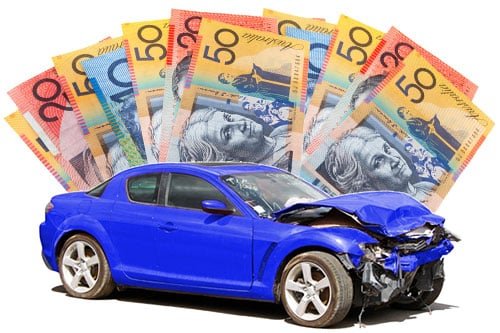 We Buy & Remove Damaged Cars
Contact us now for a quick sale and fast car removal.
Trade Your Car For Quick Dollars
If you're after top dollar for your scrap car in Port Macquarie, look no further than Top Cash For Scrap Cars. We offer a convenient and hassle-free service, with competitive rates and unbeatable customer service.
We are the trusted name for cash for cars in Port Macquarie, so contact us today to find out how much we can pay you for your unwanted car. Our friendly team is always ready to answer any questions you may have about our services. Ask how much your vehicle is worth today.